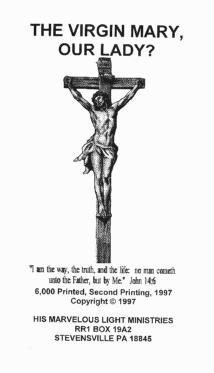 THE VIRGIN MARY OUR LADY?

Hundreds of apparitions and numerous unexplainable phenomena have been reported in the second half of the 20th century. A great many of these reports have come since 1980. The past two years alone, the reports of such events have greatly increased. From every continent and almost every country a virtual explosion of new reports of Marian apparitions, voices, weeping and bleeding statues, weeping icons, great signs in the sky and related claims of divine' intervention are alleged to have occurred. In the United States we hear reports from almost every state with new reports almost every week from both Catholics and Protestants. Large numbers of the 'faithful' along with the curious are flocking to many of these places to witness for themselves reported claims of the miraculous.

In response, the international media have also focused their attention on these events. The Wall Street Journal, Life, and Time magazine have all run cover stories while CNN, ABC, NBC, and CBS have reported or investigated related stories. Television shows such as Oprah Winfrey, 20/20, and Geraldo have featured many witnesses; all testifying that they have recently experienced the supernatural presence of the 'blessed virgin Mary' in their lives. Some of these individuals have claimed to have seen and talked to Mary, while others have described experiences with strange lights, visions, voices or mysterious odors such as the unexplainable smell of roses. Some say she turns the chains of their rosaries to gold.

In these times of sin and confusion, in these days of the approaching millennium, believers say the mother of God is visiting earth with increasing regularity and warnings. Because of all this, one major question must be asked: are these many apparitions and mystical phenomena reported today authentic? Let us look to the one Infallible source for the answer - God's holy word.

Mariolatry is practiced by every devout Roman Catholic. There are myriads of churches and altars erected to Mary all over the world, and all pay her homage. They bow at her shrine to worship and to pray to her as their mediatrix. In their prayers to her they give expression not only to an impoverished spiritual condition, but also to an unbounded confidence in her as the great liberator of the oppressed soul, as the following words will attest.

"Remember, oh most gracious virgin Mary, that never was it known that anyone who fled to thy protection, implored thy help, and sought thy intercession, was left unaided. Inspired with this confidence, I fly unto thee, O virgin of virgins, my mother. To thee I come, before thee I stand, sinful and sorrowful. O mother of the word incarnate, despise not my petitions, but in thy mercy hear and answer me. Amen. " Roderick MacEachen, "Complete Catechism of Christian Doctrine " p 15.

Another papal writer quotes this prayer:
"O Mary, we poor sinners know no other refuge than thee, for thou art our only hope, and on thee we rely for our salvation. Thou art our only advocate with Jesus Christ; to thee we all turn ourselves." Alfonsus M. De Liguori, "The Glories of Mary" (Revised by Robert A. Coffin), p. 96

It is astonishing to find that centuries passed before the doctrine of the immaculate conception of Mary was accepted by the Roman Church as a dogma. The following statement taken from Cardinal Gibbon's works acknowledges that the "immaculate conception was not formulated into a dogma of faith until 1854....it is in strict harmony with the place which Mary holds in the economy of redemption." Cardinal James Gibbons, "The Faith of Our Fathers ", p. 171.

It was on December 8, 1854, that Pius IX, with six hundred other bishops issued the famous bull that forever stilled a controversy which had existed among Roman Catholics for centuries.
"The bull Ineffabilis of Pius IX, December, 1854, declares 'that the doctrine which holds that the blessed virgin Mary, at the very first instance of her conception, by a singular grace and privilege of the Omnipotent God, in virtue of the merits of Jesus Christ, the Saviour of mankind, was preserved free from all stain of original sin, has been revealed by God, and therefore should firmly and constantly be believed by all the faithful.'" Bertrand L. Conway, "The Question-Box Answers " edition of 1920, p. 375.

By the generality of Roman Catholics, the date of December 8 is accepted as the feast of the immaculate conception without a word of remonstrance. Is it not strange that more people are not inclined to investigate the origin of the doctrines they hold? Such an investigation would lead them to acknowledge that the Roman Catholic Church's position on this subject is diametrically opposed to the teachings of the word of God. The papal church teaches that an immaculate mother had to be provided, alleging that Christ would not consent to become incarnate in flesh defiled by sin. Says one papal doctor:
"It was becoming that the Son should have an immaculate mother. He Himself chose Mary for His mother. It is impossible to believe that a son who could have a queen for his mother would choose a slave. How, then, can we imagine that the Eternal Word, who could have an ever immaculate mother, and one who had always been the friend of God, would have one defiled by sin, and at one time the enemy of God? Moreover, as an ancient author says, 'the flesh of Christ is the flesh of Mary. The Son of God would have felt horror to have taken flesh of a saint Agnes, a Saint Gertrude, or of a Saint Theresa, because these holy virgins were defiled by sin before baptism; and therefore the devil could then have reproached Him with being clothed with flesh which had once been subject to him. But as Mary was always pure and immaculate our Lord felt no horror at becoming man in her chaste womb. Besides, Saint Thomas says, that 'Mary was preserved from every actual sin, even venial;' for otherwise she would not have been a becoming mother of God; but how much less would she have been so, had she been defiled by original sin, which renders the soul hateful to God?" Alfonsus M. De Liguori, "The Glories of Mary ", pp. 643. Does the written word of God support the doctrine of the immaculate conception of Mary? Let us have Mary herself answer this question: "And Mary said, my soul doth magnify the Lord, and my spirit hath rejoiced in God my Saviour." Luke 1:46, 47. Mary said, "my Saviour," thus signifying that she needed a Redeemer, One who saves from sin.

Years after Mary was born, the apostle Paul, writing under divine inspiration, declared that "all have sinned, and come short of the glory of God." Romans 3:23. It is quite evident, therefore, that the Lord did not reveal to him the doctrine of the immaculate conception.

Such teaching strikes at the very heart of the gospel. If Mary was immaculately conceived, as the Roman Catholic Church claims, she would not have given Christ a body "...in the likeness of sinful flesh," (Romans 8:3) and He could not have been tempted as we are by Satan. The record of His life attests to the fact that Satan followed His steps from the moment He was born until the time of His death. Why was the Son of God spending hours and nights in prayer to His heavenly Father for power to meet the enemy, if He were immune to sin? The apostle speaks of Him as one "who in the days of His flesh, when He had offered up prayers and supplications with strong crying and tears unto Him that was able to save Him from death, and was heard in that He feared; though He were a Son, yet learned He obedience by the things which He suffered; and being made perfect, He became the Author of eternal salvation unto all them that obey Him." Hebrews 5:7 9.

All that Mary gave to Christ was His human body. It is a law of nature that one cannot give what one does not possess, and Mary, being human in every aspect of the word, could not impart to her Son the nature of divinity. Christ's divine nature was from the days of eternity, even before the earth or Mary ever existed. (see Micah 5:2 and John 1:1- 3, 10.) In His many experiences while here on earth, His dual nature (human with the divine) stood out in marked contrast to each other. For instance, as the result of forty days of fasting in the wilderness, "He was afterward an hungered." Matthew 4:2. Yet He was the same being who exercised His divine power to miraculously feed thousands with a few loaves and fishes. (see Luke 9:12-17). Again we see His human side when He was so weary that He fell asleep in the stern of the ship, while the disciples struggled helplessly, trying to keep the ship afloat. On being aroused by the words, "Master, carest Thou not that we perish?" Christ arose, lifted up His hand, and displayed His divine power by rebuking the storm. (Mark 4:36-41). We have both the human and the divine of Christ manifested at Jacob's well, when He said to the woman of Samaria, "give Me to drink", which shows that He was so human as to be suffering from physical thirst, and yet He was so divine that He could say to this woman: "Whosoever drinketh of the water that I shall give him shall never thirst; but the water that I shall give him shall be in him a well of water springing up into everlasting life." John 4:7, 14.

The Biblical record of the experience of the arrest of Christ by the officers of the chief priest, we have both His human and His divine natures again revealed. The human was noticeably evident when He permitted Himself to be taken by the officers of the law. In contrast to this, His divinity was exhibited by causing His captors to fall to the ground when He uttered the words, "I am He." John 18:4-6.

If there were not another inspired statement dealing with this subject, the following one alone ought to settle forever in our minds the question of what kind of flesh it was in which Christ dwelt. "For what the law could not do, in that it was weak through the flesh, God sending His own Son in the likeness of sinful flesh, and for sin, condemned sin in the flesh." Romans 8:3.

There were reasons why Christ took upon Himself human flesh. The first was that He might demonstrate before the holy angels, the worlds on high, and Satan himself that it was possible for one, through the power given Him from God His Father, to live a life of perfect obedience to the commandments of God. "Forasmuch then as the children are partakers of flesh and blood, He also Himself likewise took part of the same; that through death He might destroy him that had the power of death, that is the devil." Hebrews 2:14.

The second reason why He became bone of our bone and flesh of our flesh was that He might be able to sympathize with us poor sinful beings in our varied temptations and human weaknesses. "Wherefore in all things it behoved Him to be made like unto His brethren, that He might be a merciful and faithful high priest in things pertaining to God, to make reconciliation for the sins of the people. For in that He Himself hath suffered being tempted, He is able to succour them that are tempted." Hebrews 2:17, 18. When we are tempted, it is a comfort to know that there is One who, having passed through like experiences, understands the power of the enemy and can give not only comfort but strength to overcome the temptations. If it were true that Christ had been born of an immaculate mother, it would have rendered Him incapable of participating in our feelings when we are tempted and tried .

In the genealogy of Christ as given in Matthew we find Jesus called the Son of David and also the Son of Abraham. One has to study only the characters of Abraham and David to learn that they were very human and had a tendency to sin. Thus we see what kind of human nature Christ inherited from His progenitors.

If the doctrine of Mariolatry was to be promulgated through the ages, why is it that the sacred Word records no divine instructions to that effect? If Mary was to be venerated and worshiped, is it not strange that Christ was silent in regard to it? However, there was another woman, Mary of Bethany, whose noble deed has inspired many through the ages to pour out their hearts' affections on their Saviour by means of gifts and sacrifices. This Mary's deed was immortalized by the statement of Christ when He said: "Verily I say unto you, wheresoever this gospel shall be preached in the whole world, there shall also this, that this woman hath done, be told for a memorial of her." Matthew 26:13. Those who hold the doctrine of Mariolatry will be profoundly astonished when they analyze notable statements made by Christ concerning His mother. "While He yet talked to the people, behold, His mother and His brethren stood without, desiring to speak with Him. Then one said unto Him, behold, Thy mother and Thy brethren stand without, desiring to speak with Thee. But He answered and said unto him that told Him, who is My mother? And who are My brethren? And He stretched forth His hand toward His disciples and said, Behold My mother and My brethren. For whosoever shall do the will of My Father which is in heaven, the same is My brother, and sister, and mother." Matthew 12:46-50. On another occasion, when a woman said in adulation of His mother, "blessed is the womb that bear Thee, and the paps which thou hast sucked," His answer was: "Yea rather, blessed are they that hear the word of God, and keep it." Luke 11:27, 28.

Jesus plainly stated that He was no respecter of persons, and that He esteemed in the same way all who obeyed Him.

The Roman Catholic Church lays great stress upon the salutation of the angel Gabriel when he said: "Blessed art thou among women." Luke 1:28. But they overlooked the fact that this was not the first time that God conferred a blessing upon a woman. About 1,300 years before the birth of Christ, a similar blessing was pronounced by divine inspiration upon a woman whose name was Jael. "Blessed above women shall Jael the wife of Heber the Kenite be, blessed shall she be above women." Judges 5:24. There is no intimation given in the word of God that this woman who was blessed "above" women was beatified or canonized. After a lapse of hundreds of years, Mary, who was blessed "among" women, is exalted by the Roman Church, and millions of worshipers are taught to bow at her shrine.

In answer to the question, "when was the blessed virgin canonized?'' a well-known Jesuit periodical says: "The holy mother of God was never formally canonized, as we understand canonization today. Indeed, the first formal canonization probably does not go back further than the tenth century, when Pope John XV solemnly canonized Saint Ulrich of Augsburg in A.D. 993. . . . Finally, it was Urban VII who in a bull, published in 1634, reserved exclusively to the Holy See the right of beatification and canonization, which is the rule prevailing to this day. . . Speaking to the book, neither the blessed virgin, John the Baptist, the twelve apostles, and numerous other early martyrs, were ever formally canonized, nor for that matter the archangels, though the cultus of all has been allowed by the [Roman] Church from the earliest times." "The Catholic Mind", January, 1944, pp. 61, 62.

When the truth of God is misconstrued, the Lord loses His rightful place as the center of worship, and the human mounts the throne. Thus it was in the case of those apostates "who Changed the truth of God into a lie, and worshiped and served the creature more than the Creator." Romans 1:25. A papal doctor has said:
"Saint Basil of Seleucia declares that she [Mary] received this plenitude, that she might thus be a worthy mediatress between men and God: 'Hail, full of grace, mediatress between God and men, and by whom heaven and earth are brought together and united.' 'Otherwise,' says Saint Lawrence Justinian, 'had not the blessed virgin been full of divine grace, how could she have become the ladder to heaven, the advocate of the world, and the most true mediatress between men and God?'" Alfonsus M. De Liguori, "The Glories of Mary ", p. 294.

Jesus spoke of Himself, not of His mother, as being the ladder to Heaven, saying to Nathaniel: "Verily, verily, I say unto you, hereafter ye shall see heaven open, and the angels of God ascending and descending upon the Son of man." John 1:51.

Although John was given the guardianship of Mary by Christ, he knew nothing of the supposed honor of her office as mediatrix and advocate. This his own words testify: "My little children, these things write I unto you, that ye sin not. And if any man sin, we have an advocate with the Father, Jesus Christ the righteous: and He is the propitiation for our sins: and not for ours only, but also for the sins of the whole world." 1 John 2:1, 2.

Neither did the apostle Paul know anything of the supposed intercessory work of Mary, as the following statement indicates: "For there is one God, and one mediator between God and men, the Man Christ Jesus; who gave Himself a ransom for all, to be testified in due time." 1 Timothy 2:5, 6. If the communicants of the Roman Catholic Church were to accept the words of the apostle Paul, the following would never be uttered as to Mary:
"Let us then cry out with Saint Thomas of Villanova, 'O Mary, we poor sinners know no other refuge than thee, for thou art our only hope, and on thee we rely for our salvation.' Thou art our only advocate with Jesus Christ; to thee we all turn ourselves. " Alfonsus M. De Liguori, "The Glories of Mary", p. 96. When the plan of redemption was first revealed in the Garden of Eden, it carried with it the sentence pronounced upon Satan, and foretold the enmity which Christ would plant in the heart of man against sin. The Lord declared. "I will put enmity between thee and the woman, and between thy seed and her seed; it [in Hebrew, "He"] shall bruise thy head, and thou shalt bruise His heel." Genesis 3:15.

We can realize the inexpressible joy and gratitude that filled the hearts of our first parents when they learned that the Son of God would offer Himself as an atonement for their sins. Yes, it took the One who was their Creator to be their Redeemer. The violation of the law of God could not be atoned for by the death of an angel, and much less by a human being. The Roman Catholic Church teaches that it was the woman, Mary, and not the promised Seed, who crushed the serpent's head. Here is its teaching:
"It may be fairly alleged that the Bible begins with Mary. When God cursed the serpent, He said, 'I will put enmity between thee and the woman, and between thy seed and her seed....' This prediction was fulfilled, and Mary received the highest dignity possible to a mere creature. " Wm. E. Addis and Thomas Arnold, "A Catholic Dictionary ", p. 554, Art. "Mary in Scripture".

Note the difference between the rendering of Genesis 3:15 in the authorized King James Version and in the Douay Version of the Bible: "And I will put enmity between thee and the woman, and between thy seed and her Seed; It shall bruise thy head, and thou shalt bruise His heel." Authorized Version. "I will put enmities between thee and the woman, and thy seed and her Seed: she shall crush thy head, and thou shalt lie in wait for her heel.'' Douay Version. Is it not doing violence to the text to substitute "she'' for "It [the Seed]" and "her" for "His"? The sacred Scriptures expressly declare that the feat of crushing and destroying the devil and his angels is to be done by Christ Himself. "For as much then as the children are partakers of flesh and blood, He also Himself likewise took part of the same; that through death He might destroy him that had the power of death, that is, the devil." Heb. 2:14. "For this purpose the Son of God was manifested, that He might destroy the works of the devil." 1 John 3:8. "The God of Peace shall bruise Satan under your feet shortly." Romans 16:20.

Contrary to the Sacred Scriptures, the papacy exalts Mary saying:
"It was indeed becoming that the three divine Persons should preserve Mary from original sin. It was becoming that the Father should do so, because Mary was His first-born daughter. As Jesus was the first-born of God, 'the first-born of every creature,'so also was Mary, the destined mother of God, always considered by Him as His first-born daughter by adoption, and therefore He always possessed her by His grace 'The Lord possessed me in the beginning of His ways.' For the honor, therefore, of His Son, it was becoming that the Father should preserve His mother from every stain of sin. It was also becoming that He should do so, because He destined this His daughter to crush the head of the infernal serpent, who had seduced man, as we read in Genesis, 'She shall crush thy head. How, then, could He permit that she should first be the slave of this infernal serpent? Moreover, Mary was also destined to become the advocate of sinners, therefore it was also becoming that God should preserve her from sin, that she might not appear guilty of the same fault of men, for whom she was to intercede. " Alfonsus M. De Liguori, "The Glories of Mary", pp. 642, 643.

Much has been written concerning Mary's death, assumption (ascension to heaven), and coronation as queen of heaven. The supposed miracles and supernatural events surrounding her demise cause the death of Christ to appear as a mere passing occurrence. Note the following:
"This glorious death occurred on Friday the 13th of August, three hours before sunset, the age of the blessed mother being seventy years, wanting 26 days. This precious death was signalized by many miracles, the sun was eclipsed for a few hours; many birds entered into the dwelling, and by their plaintive cries, seemed to morn the death of their queen; so remarkable were the evidences of their grief, that many were moved to tears. The whole city was filled with astonishment, and all confessed the power of the Almighty. Many of the sick were healed, and all the souls in purgatory were delivered, that they might accompany their merciful mother to heaven. At the same instant in which the virgin mother expired three persons who dwelt near her also died, but in the unhappy state of mortal sin. When they appeared before the tribunal of Jesus Christ, the holy mother begged grace and mercy for them; they were allowed to return to life, and having done penance for their sins, happily preserved in grace and were saved. " Joseph A. Boullan, "The Life of the Blessed Virgin Mary ", pp. 420, 421.

What happened during the supposed assumption procession from the tomb to heaven is astonishing. It is described thus:
"The magnificent procession departed from the sepulcher chanting celestial melodies, and ascended through the region of rite air to the empyreal heaven... Who is this that seems like the aurora, more beautiful than the moon, bright as the son, and terrible as an army in battle array? Who is this that cometh up from the desert, leaning on her Beloved, and overflowing with delights? Who is this in whom the Divinity itself has found greater complacency than in all other creatures, and whom He has raised above all to the throne of His inaccessible light and majesty? O marvel, never before beheld in heaven! O prodigy of an omnipotent God, who thus glorifies and exalts her!

"Vested with this wonderful glory, the holy virgin arrived at the throne of the Divinity, and the three Divine Persons received her into their eternal and indissoluble embrace. She seemed as if absorbed within the three Divine Persons, and as if submerged in that infinite ocean of the abyss of the Divinity; the saints heard these words of the eternal Father: 'Our daughter Mary has been elected and chosen by Our eternal will as the only and singular one among all creatures, and she is also the first in Our delights. She has never degenerated from her title of daughter, which in the divine understanding has been given her from all eternity, therefore she has a right to Our eternal kingdom, of which she is to be acknowledged and crowned the legitimate sovereign and queen. The Incarnate Word said: 'To My true and natural mother belong all the creatures that I have created and redeemed, and all that I possess as King, she must also possess as legitimate queen.' The Holy Ghost said. 'By the title of My only and elect spouse, to which she has corresponded with perfect fidelity, the crown of queen is also due to her for all eternity.

"After these words the three Divine Persons placed on the August head of the most holy virgin a crown of glory, which far exceeded any that ever has or ever shall be awarded to a creature. At the same instant a voice came from the throne, saying. 'Our friend and Our chosen one among all other creatures, Our kingdom belongs to thee. Thou art the sovereign, the queen and the mistress of the seraphim, the angels Our ministers, and of the entire creation.... Of the church militant thou art the empress, queen, mistress, protectress, advocate and mother. Thou shalt be the friend, patroness and protectress of all Our friends, the just. Console them, fortify and fill them with every good, if by their devotion they render themselves worthy. Thou art the depository of all Our divine benefits, the treasury of all our graces. Into thy hands We remit the help and favor of Our grace, so that thou mayest dispense them; for We will grant nothing to the world but what shall pass through thy hands, and we will refuse nothing which thou mayest desire to grant. Grace shall be spread abroad on thy lips, for all that thou shalt wish and ordain in heaven and on earth; angels and men shall obey thee in all places, because all that is Ours belongs to thee, as thou hast always belonged to Us, and thou shalt reign with Us for all eternity.'

"For the execution of this eternal decree, the Omnipotent ordered all the heavenly court to render obedience and homage to her as their queen, and they promptly obeyed, acknowledging themselves her servants and vassals, and venerating her with a worship, filial fear, and respectful veneration like to that with which they adore the Lord. " "Idem", pp. 429-432.

The Roman Church has conferred upon Mary authority that surpasses that of Christ, even going so far as to state that if Satan were to humble himself and seek her aid for salvation, she would be magnanimous enough to grant him pardon and thus grant him pardon and thus convert him.

Note this statement:
"The blessed virgin herself revealed to Saint Bridget 'that there is no sinner in the world, however much he may be at enmity with God, who does not return to Him and recover His grace, if he has recourse to her and asks her assistance.' The same Saint Bridget one day heard Jesus Christ address His mother, and say that 'she would be ready to obtain the grace of God for Lucifer himself, if only he humbled himself so far as to seek her aid.' That proud spirit will never humble himself so far as to implore the protection of Mary; but if such a thing were possible, Mary would be sufficiently compassionate, and her prayers would have sufficient power to obtain both forgiveness and salvation for him from God. But that which cannot be verified with regard to the devil is verified in the case of sinners who have recourse to this compassionate mother. " Alfonsus M. De Liguori, "The Glories of Mary., p. 100.

After reading this booklet, shouldn't we be thankful for the holy Scriptures and the true Mediator, Who alone can save the sinner? "For there is one God, and one Mediator between God and men, the man Christ Jesus; who gave Himself a ransom for all, to be testified in due time." 1 Tim. 2:5, 6. He became man, incarnated in human flesh, that He might represent us before the throne of the Deity. "Seeing then that we have a great High Priest, that is passed into the heavens, Jesus the Son of God, let us hold fast our profession. For we have not an High Priest which cannot be touched with the feeling of our infirmities; but was in all points tempted like as we are, yet without sin. Let us therefore come boldly unto the throne of grace, that we may obtain mercy, and find grace to help in time of need." Heb. 4:14-16. Although Mary was indeed a good woman, as otherwise God would never have entrusted to her care the rearing of Him who was to be our High priest. it is not Mary who is to represent us before the throne of God, for "We have an advocate with the Father, Jesus Christ the Righteous.'' 1 John 2:1. Those who believe the Holy Bible will give Christ His rightful place as the center of all their worship. Never will they pay to another the homage that belongs to Him!

Has the Roman Catholic Church not gone beyond all bounds when she has taken the sacred words which God has given us in the Bible and turned them into a lie? The beatified and canonized saints are themselves unable to protest against the position to which the Roman Church has elevated them in their system of worship. If Mary were permitted to return from her grave to give her opinion concerning the Roman Catholic teaching on the invocation of saints, she would cry out in clarion tones against it.

The worship of images and relics the invocation of saints, and the exaltation of the pope are devices of Satan to attract the minds of the people from God and from His Son, Jesus Christ. To accomplish their ruin. Satan endeavors to turn their attention from Jesus through whom alone they can find salvation. He will direct them to any object that can be substituted for the One who has said: "Come unto Me, all ye that labour and are heavy-laden, and I will give you rest." Matthew 11:28.

Mary rests in the grave until Jesus calls her forth at His second coming. The hundreds of Mary apparitions and numerous unexplainable phenomena that has been reported is of Satan's devising to draw precious souls away from our only salvation, Jesus Christ.



GO TO OUR BOOK STORE

RETURN TO LIBRARY